7 ways visual communication design helps enhance corporate communications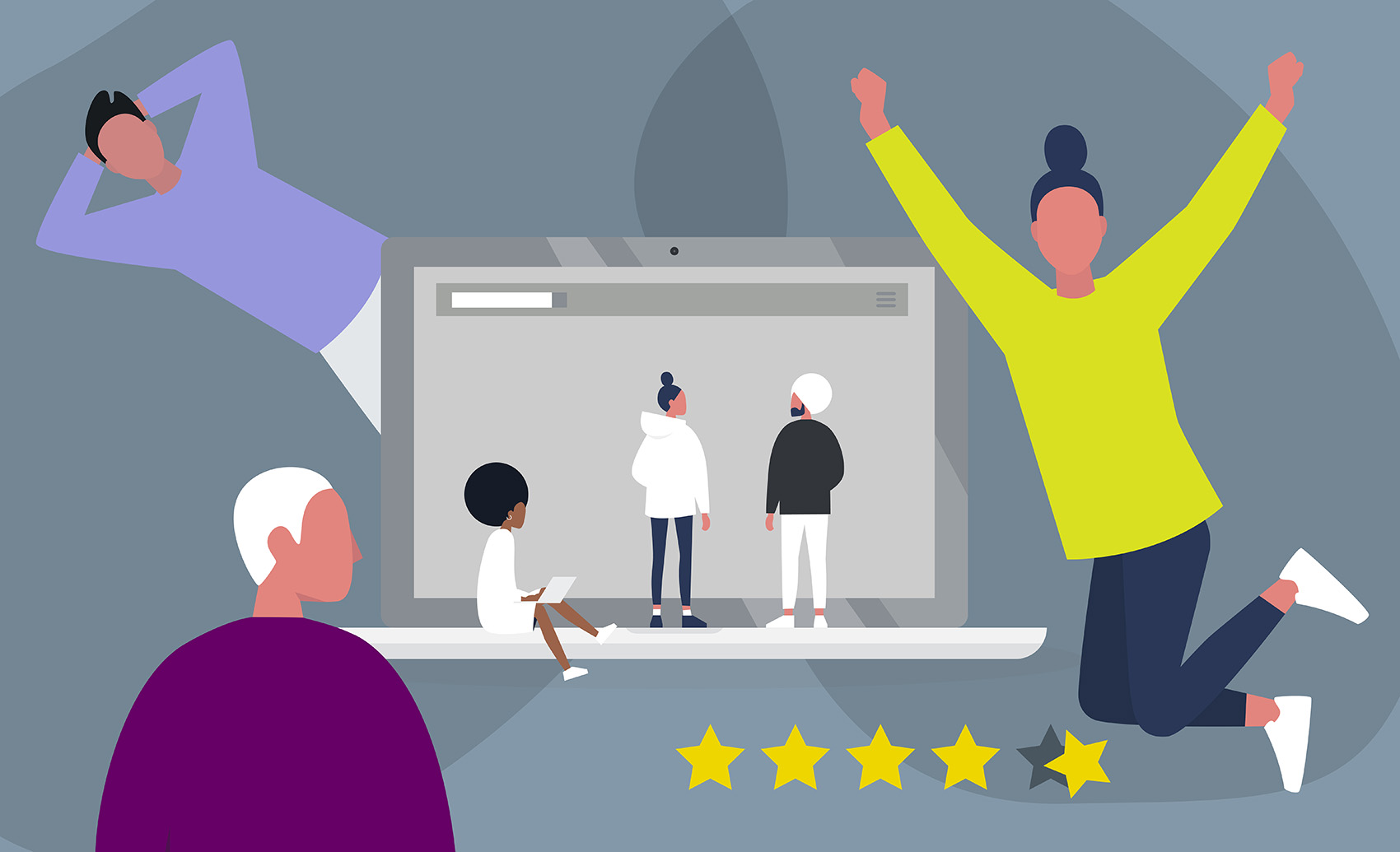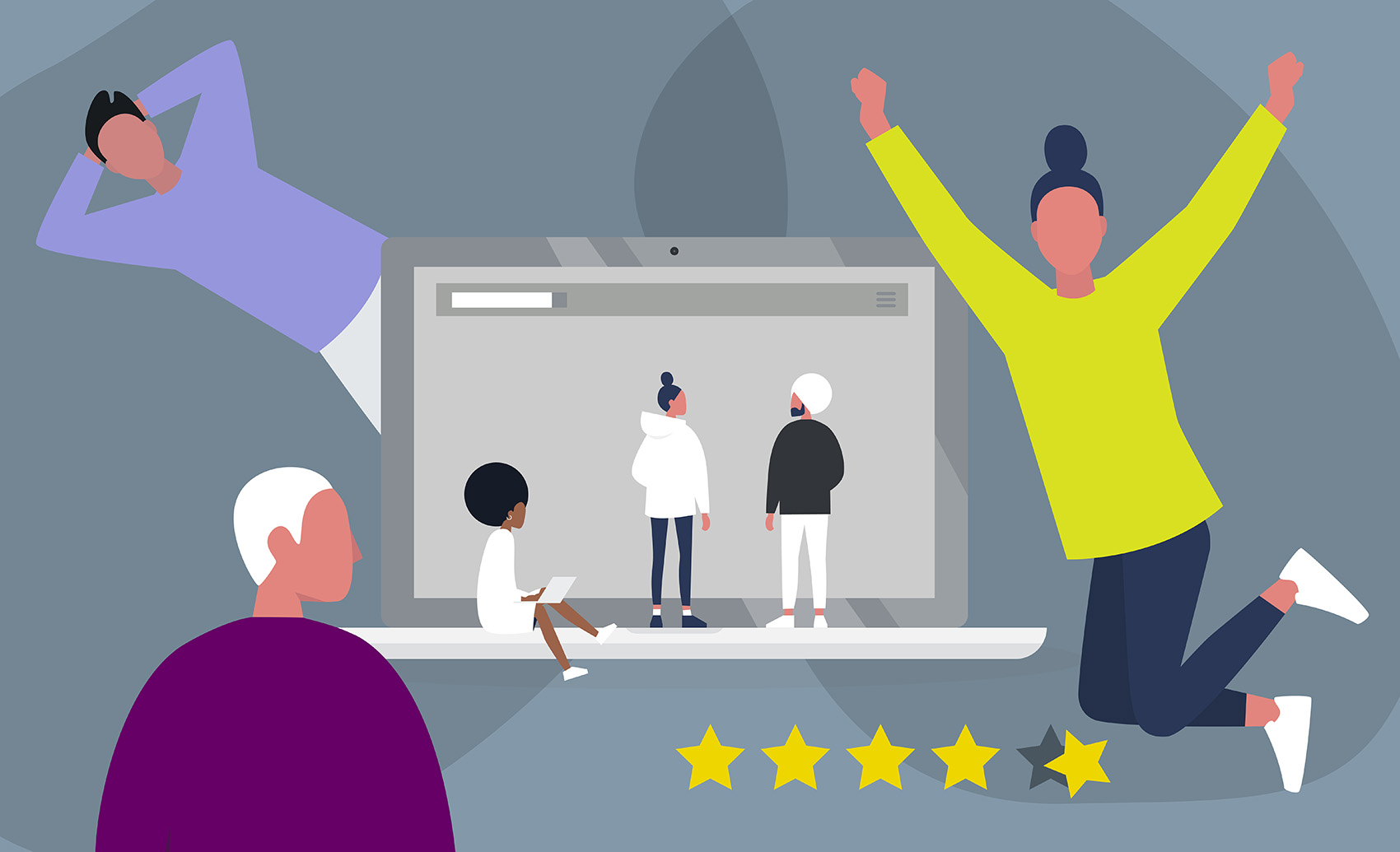 As an internal communication (IC) or human resource (HR) professional, you can improve your employee communication strategies by combining them with visual communication design. Here are seven ways to help strengthen your brand, improve engagement and have greater influence.
Before we begin, what is visual communication design?
Visual communication design goes beyond what meets the eye. It extends from a simple static graphic through moving animations into creating a fully immersive experience. It understands your overall message and tells your story through strategic applications of graphic design, type, colour, illustration, photography and animation. Understanding its power can lend itself as an effective tool in contributing to your corporate communications initiatives and benefiting your employees and customers.
---
Our seven ways:
1. SETS THE MOOD INSTANTLY

Visual communication creates a mood faster than words. As we know, colour and its effects can have descriptions of emotion and influence over how we respond. We may "see red" or "feel blue," for instance. This understanding is what makes the work of designers so impactful.
For example, if you're organizing an employee entertainment event, you may be looking to express something fun or cheerful. If you publish an important policy document, you may want to convey an accountable and respectful mood.
An experienced designer will help you pair the right balance of colour, choose the right images and emphasize the right words. So whatever your story, capture your audience immediately with reactions and emotions by setting the mood instantly.
2. REINFORCES YOUR GOALS

Your project goals keep everyone focused on the big picture. Understanding your audience and business challenges are part of the design strategy. This approach to communication will help designers find the best visual solutions and maintain integrity.
For example, your goal may be to educate or inform your audience about a new company procedure. Here, the inclusion of infographics with the right balance of text and data will simplify concepts. It may help visualize the steps involved and emphasize the projected outcomes.
Perhaps your goal is to inspire or motivate new or potential employees. Take the opportunity to create a relationship with the company and its people. Introducing something real such as emotionally compelling photography may be the right choice to reinforce your goals.
Remember, your goals' success depends on how you shape them; the clearer the vision, the easier it is to achieve.
3. ENCOURAGES PARTICIPATION

One often overlooked benefit of visual communication is that it helps encourage participation and involvement. With strong visuals, you can improve organizational culture over time. They help signal business priorities and, at the same time, show your employees the extent to which you have gone to deliver messages. When employees see these efforts, they will be more likely to listen, express ideas and participate.
Interactive forms such as opinion polls or suggestion boxes can be ideal for collecting feedback on a real-time basis. Keep remote staff informed and feeling like part of your organization with an interactive newsletter or activity. Designers will help you stylize your communication app templates to fit the likings of your audience.
For non-desk workers, creating a wall or graphic tree is where employees may contribute ideas so everyone can see and share. The effect generates creative ideas and builds a community in the workplace.
4. COMMANDS INSTANT ATTENTION

Together thoughtful design and strategic locations inside or outside will communicate important messages and keep your brand at the forefront. Branding your environment with messages and stories in the workplace extends a whole new experience.
Strategic placement of large murals or banners can bring character and appeal to entrance areas or corridors. It will command instant attention and draw you into the corporate experience as people move about.
People can appreciate aesthetics when you tell the company story or create a timeline. For more current events or impactful messaging, window scrims or graphic panels can bring pleasure and liven up space.
Messages delivered through digital screens throughout the office can be easily updated.
5. INSTILLS PROFESSIONALISM AND TRUST

When done right visual communication sends a message of being professional and trustworthy. Going the extra mile to add this level of professionalism shows you care. It serves to establish a strong brand identity that your employees and customers can get to know and trust.
Think about the last investor or management presentation you sat through or presented yourself. Was it lousy? Was it great? Why? If you want to look credible, impress your audience, be regarded as an expert, and be trusted, make sure your next PowerPoint presentation reflects it.
Think of your investment in people when you present your onboarding package to a new employee. Professionalism and trust is an excellent start to providing them with an identity that they feel confident in standing behind.
Visual communication design can help ensure that your brand expands to both your consumer-facing and internal communications.
6. BOOSTS UNDERSTANDING

There is no doubt that the majority of people are visual learners. Studies show that 65 percent of humans process images more efficiently than audio or text. Using visual design for better communication can improve understanding through easier recognition of your message.
Applications to compare sales figures, highlight a trend or instructions for a new technical program are everyday examples that will benefit from the visual design.
Graphs and pie charts are a typical example of what we call data visualization, used to show differences between quantities. Outside of statistics, designers use a ton of different visual tools. Arrows, icons, flow charts, infographics, timelines, illustrations, animation provide easy recognition. Combining the right balance with your message lets your audience see a clear breakdown of information to prompt deeper learning of your message.
7. CREATES VISUAL MEMORIES

Do you want to be remembered? Make an effort to make someone feel good.
Communicating through visual design has the unique ability to stick in the longer-term memory. It enables viewers to reflect on what they see, increasing the likelihood of coming back for more. Take opportunities to reach out and strengthen your brand. Add personality and make it memorable. Use design to invoke positive and lasting emotions about your company to support your vision, mission and values.
Include keepsakes to commemorate a corporate event or personal milestone. Excite a crowd and make an impactful video for your next leadership conference. Create a unique and richer experience through an interactive demo or explainer videos for a new service or product.
---
In conclusion
At all levels, any inclusion of visual design should maintain the company's brand and complement your company's tone of voice. It should share your same goals. As you can see, visual communication design comes with many ways to contribute to your initiatives to benefit employees, customers and association members too!
You are already a great communicator. Visual solutions offer a way to augment your efforts. Make your communications better with a professional design team, and consider adding visuals as the companion to your next initiative.
---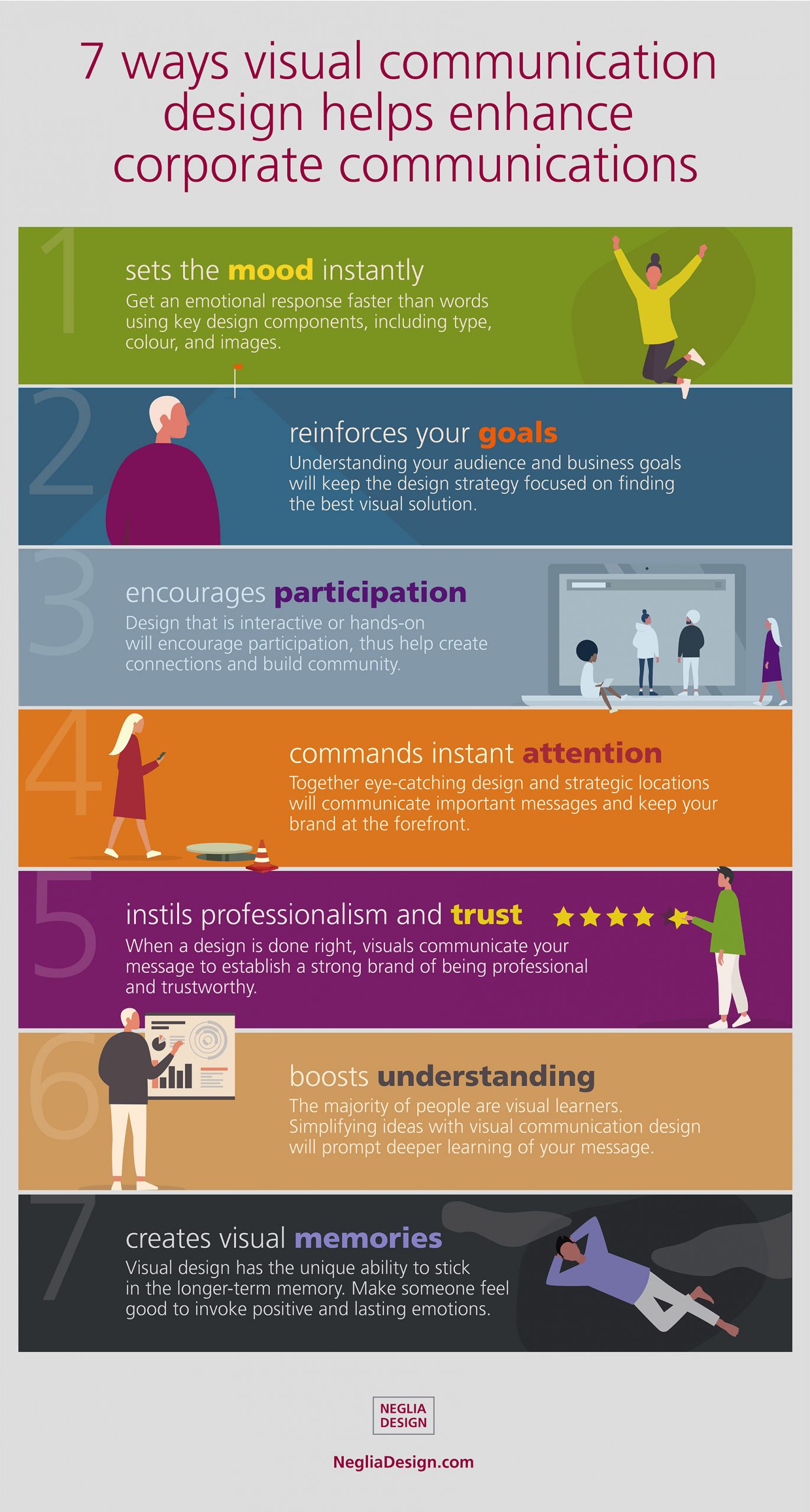 ---
Want to discuss a future project? Please contact us for a complimentary appointment.