The Met releases 375,000 beautiful images for free and unrestricted use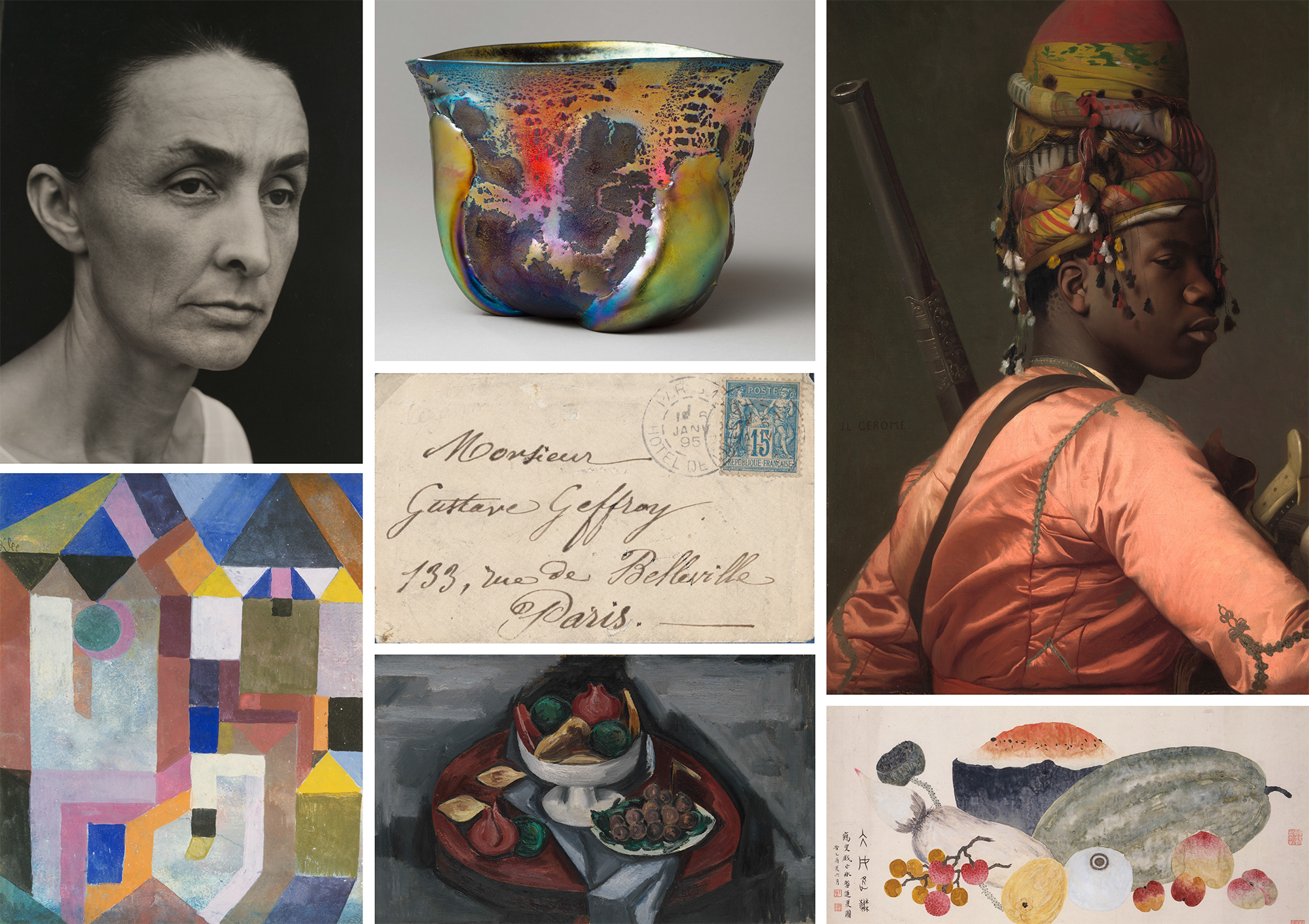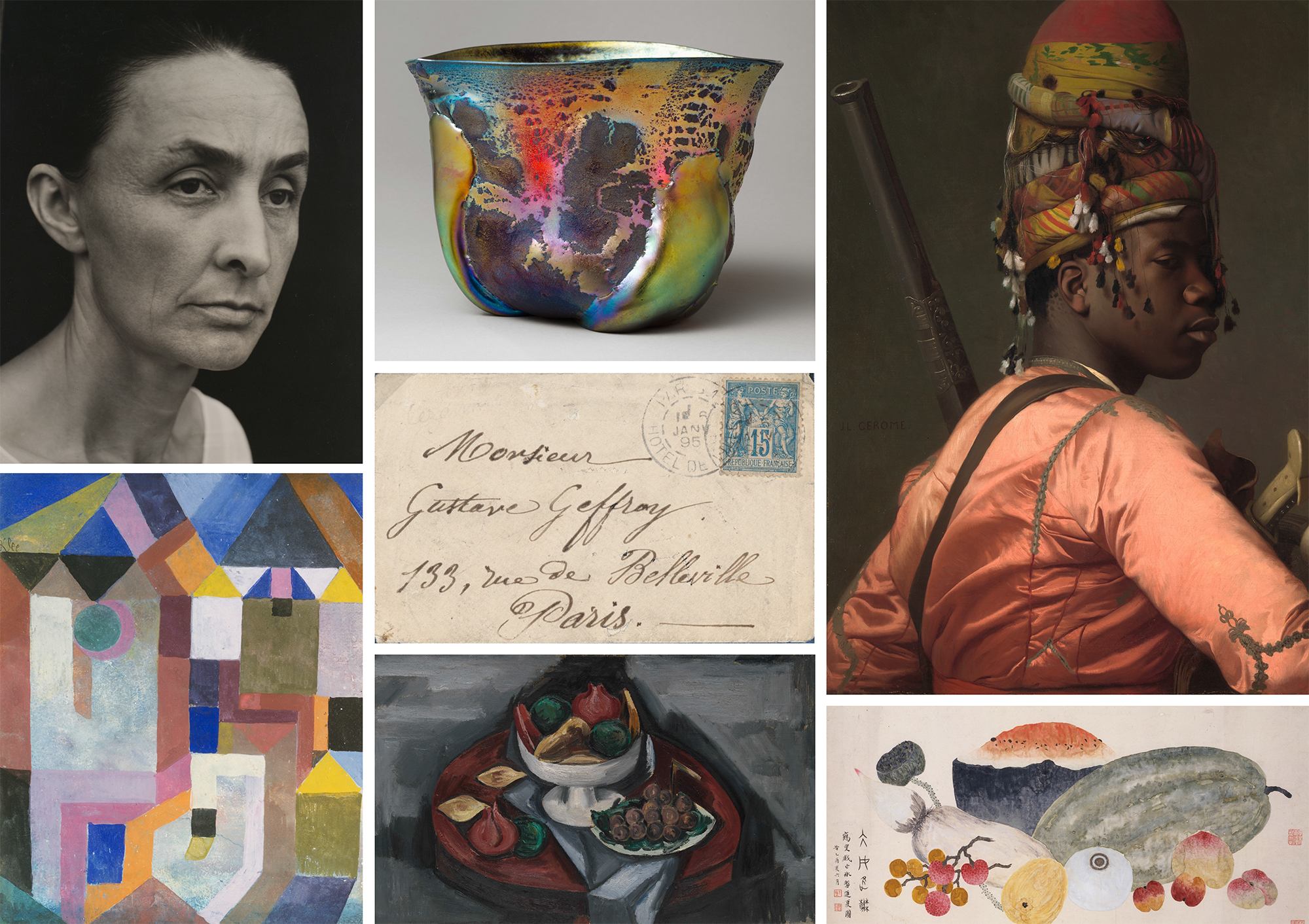 "As of today, all images of public-domain works in The Met collection are available under Creative Commons Zero (CC0). So whether you're an artist or a designer, an educator or a student, a professional or a hobbyist, you now have more than 375,000 images of artworks from our collection to use, share, and remix—without restriction." – 02/07/17, The Met
The Met's decision to release the restrictions on their beautiful collection of public domain imagery is a breath of fresh air. In a world swimming in fake stock, the fledgeling trend to endow the public with public domain images from national galleries and museums is a small but significant step towards keeping it real.
A gift to the design world
As designers, we relish the opportunity to work with real and meaningful imagery. It fuels our creativity and expands our ability to come up with a greater range of original concepts. It also helps to distinguish brands by standing out from the cacophony of stock imagery.
While stock imagery is useful and some of it is of superb quality, we find that the best stock images get used often. Just when we think we find a needle in a haystack — a unique and beautiful stock image — we spot it two weeks later being used by someone else.
We're also often hampered by tight budgets that only allow the use of stock. As a result, we find that our concepts are restricted by what stock imagery is available and within the client's budget. This is why The Met's release of 375,000 open source images are a boon to designers. We get to use images that are beautiful and original, tell a story and are available for free.
Let's get real
Used properly, with respect and in the right context, designing with open access images recently made available from The Met and other galleries and museums, opens the door to greater creativity and enrichment. We may even learn something new about the world around us.
How to access The Met's website to find and download open source imagery
Finding and downloading public domain images from The Met's website is quick and easy. The only part that's hard is deciding what image to choose because the options are seemingly endless.
We created a quick four-step process to guide you. Remember to always credit the imagery you use from The Met. It's not only a best practice but also an opportunity to teach others.
For more information visit The Met's Open Access Policy page.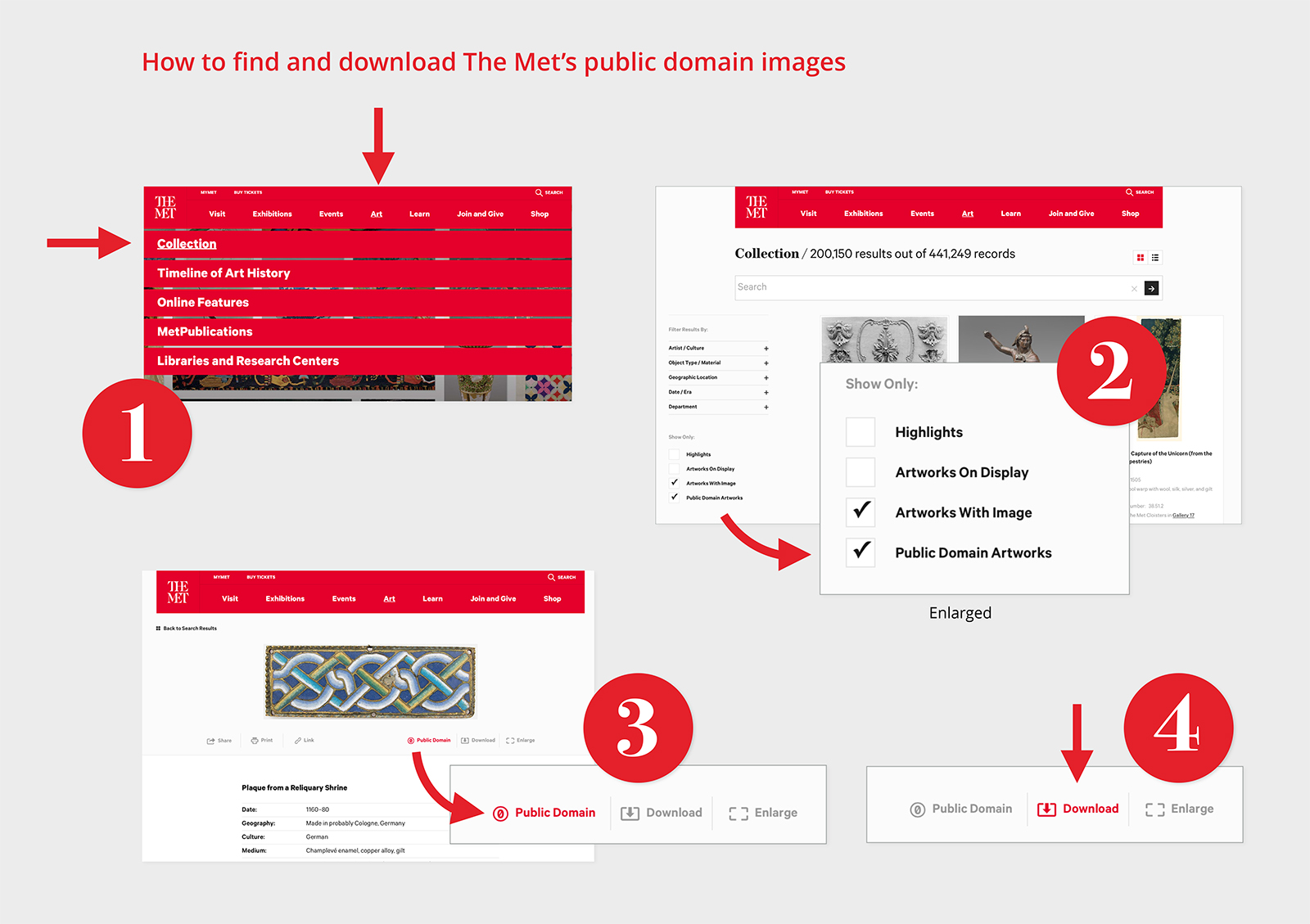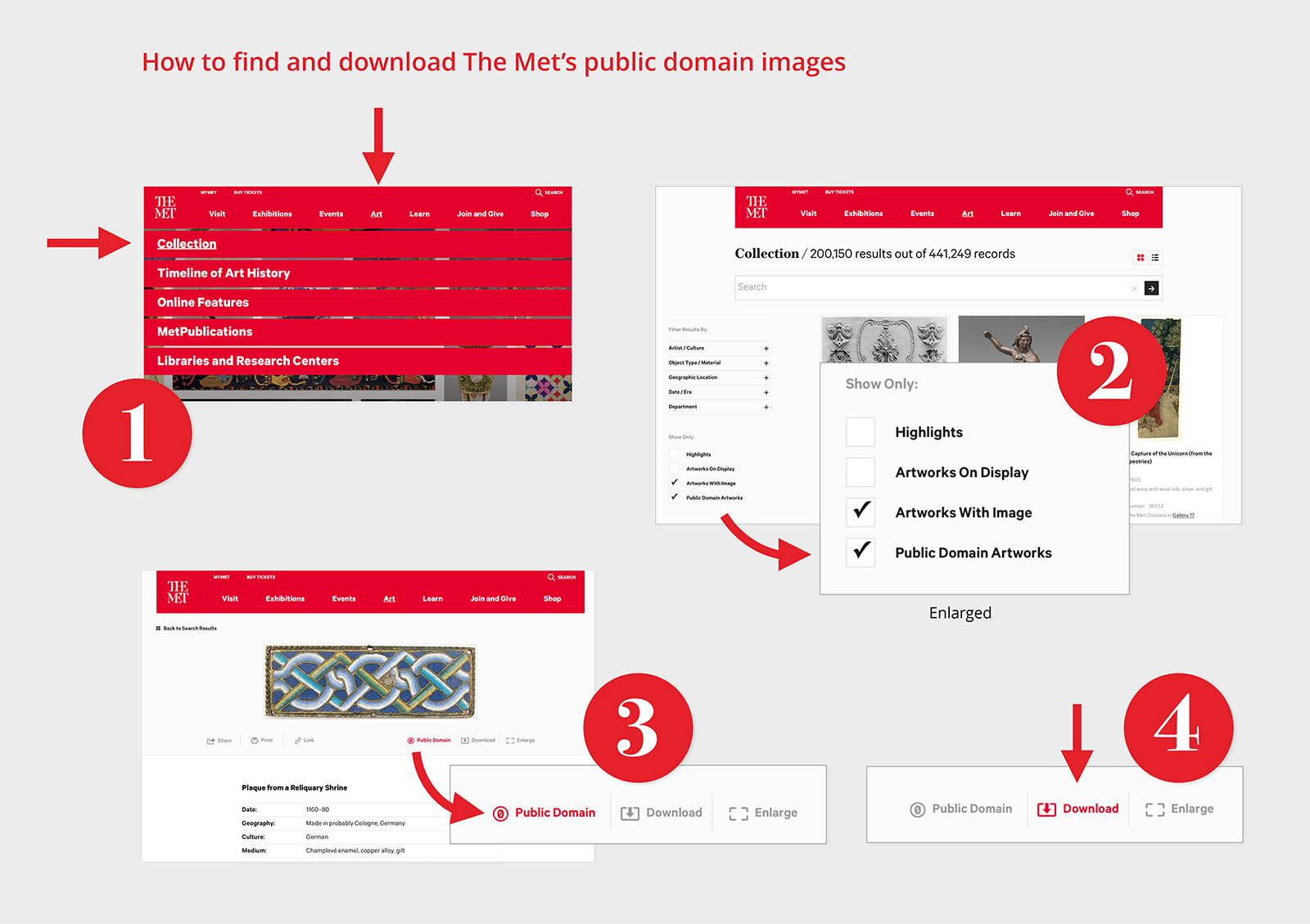 Log onto The Met's website and click on "Art" in the main navigation, then click on "Collection".
Custom filter your results if you wish, but be sure to check off "Artworks With Image" and "Public Domain Artworks".
Once you find an image you like, click on it to go to its feature page. Double check that the image is a public domain image by the CC0 logo.
Download your image.
---
–
Top of page feature image credit:
Top left: Alfred Stieglitz | Georgia O'Keeffe | The Met
Top middle: Designed by Louis Comfort Tiffany | Bowl | American | The Met
Top right: Jean-Léon Gérôme | Bashi-Bazouk | The Met
Middle: Anonymous | Paul Cézanne, calling card envelope | The Met
Bottom middle: Marsden Hartley | Still Life No. 2 | The Met
Bottom right: Ding Fuzhi | Dish of Iced Summer Fruit | China | The Met